(Click on the book covers to order)
TRAGEDY IN AURORA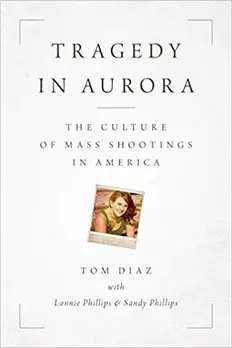 Tragedy in Aurora is about the 2012 murder of budding sports journalist Jessica (Jessi) Redfield Ghawi in a public mass shooting, and the widening circle of pain it inflicted on her family, friends, police, medical first responders, and others. The book is at the same time a deep examination of the causes and potential cures of the quintessential 21st century American sickness—public mass shootings. At the heart of that examination is an unpacking of America's deep polarization and political gridlock. It addresses head on the question of why? Why is American gun violence so different from other countries? Why does nothing seem to change?
The "Parkland kids" inspired hope of change. But the ultimate questions stubbornly remain—what should, what can, and what will Americans do to reduce gun violence? Tragedy in Aurora argues that the answer lies in a conscious cultural redefinition of American civic order. Over recent decades, America has defined a cultural "new normal" about guns and gun violence. Americans express formalistic dismay after every public mass shooting. But many accept gun violence as an inevitable, even necessary, and to some laudable part of what it means to be "American." Although Americans claim to be shocked with each new outrage, so far they have failed to coalesce around an effective way to reduce gun death and injury. The debate is bogged down in polarized and profoundly ideological political and cultural argument. Meanwhile, America continues to lead the globe in its pandemic levels of gun deaths and injuries. Combined with the cynical "learned helplessness" of its politicians, the result is gridlock and a growing roll of victims of carnage. Is there a path out of this cultural and political gridlock? Tragedy in Aurora argues that if America is to reduce gun violence it must expand the debate and confront the fundamental question of "who are we?" Tom Diaz gives a new understanding of American culture and the potential for change offered by the growing number and ongoing organization of victims and survivors of gun violence. Without conscious cultural change, the book argues, there is little prospect of effective laws or public policy to reduce gun violence in general and public mass shootings in particular.
THE FORGOTTEN SURVIVORS OF

GUN VIOLENCE
WOUNDED
The toll of America's gun violence epidemic is usually measured in lives lost—more than 35,000 each year. Ignored, almost completely, are the many more people who are shot every year, and survive. —Shot and Forgotten, The Trace
"Nearly 40,000 people die from gun violence in the US, wounded every year. This uniquely American crisis leaves no community untouched—but it doesn't have to be this way." —Gabrielle Giffords
The Forgotten Survivors of Gun Violence collects 20 personal essays of survivors' visible and invisible wounds from school shootings, attempted suicide by firearm, mass shootings, gang violence, and domestic violence. Their stories remind us that these traumatic experiences are not exclusive to combat soldiers but, more notably, suffered by ordinary people during modern life. With this collection, editors Loren Kleinman, Shavaun Scott, Sandy Phillips and Lonnie Phillips expose the true lifecycle of a bullet and the trauma left in its wake. Through personal narratives and select personal photos, the wounded tell a story that's forgotten when the cameras go away. This collection will be of interest to first responders, officers, therapists, medical practitioners, and educators.