Join Gabby Giffords for a Gun
Violence Prevention Town Hall in Denver
Hello
For our first town hall in Colorado since the onset of the COVID-19 pandemic, Gabby Giffords will be back in Denver for a community conversation about the important gun safety legislation that was introduced in Colorado.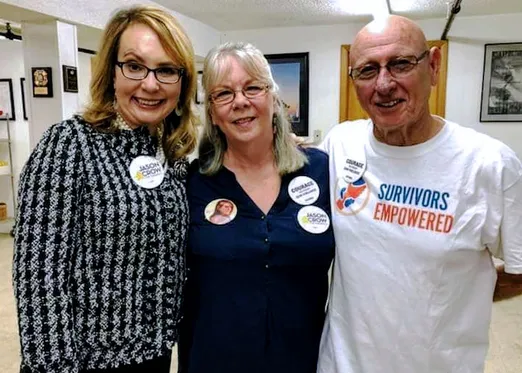 Join Giffords, Sandy and Lonnie Phillips—survivors of the Aurora theater shooting—lawmakers, and community leaders on Wednesday, February 8, at 6 pm for a discussion about the Gun Violence Victims Access to Justice and Firearms Industry Accountability Act.

RSVP HERE

Local lawmakers and advocates will discuss how current Colorado law punishes victims of gun violence for seeking justice by barring them from suing gun manufacturers and dealers—and then forcing them to pay the gun industry's legal fees if the case is dismissed. We'll also focus on the potential impact of this bill and the concrete measures that activists can take to ensure that survivors and victims are able to seek justice.
Speakers include:
Former Congresswoman Gabby Giffords

Sandy and Lonnie Phillips
Senator Sonya Jaquez Lewis
Senator Tom Sullivan
Senator Rhonda Fields
Our panel includes:
Representative Javier Mabrey
Ari Freilich, Giffords Law Center's State Policy Director
Emily Engelhaupt, Giffords Gun Owners for Safety Senior Ambassador
Rachel Hill, President of CU Boulder student government
Maisha Fields, BSN- FNP, MPH Executive Director of Fields Wolfe Memorial fund and board chair for Mending Roots
Will you join us for a conversation about the significance of this
gun safety legislation and what it means for Colorado communities?
We hope to see you there!
Sandy & Lonnie Phillips
---