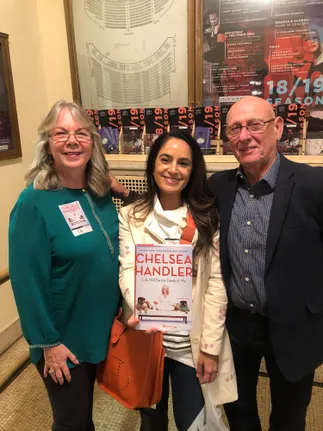 When 43 gun violence survivors and 12 therapists and meditation instructors converged on the Healing Through Love Meditation Retreat in Barre, Massachusetts, in August 2019, it was a watershed moment.
In a first-of-its-kind event, the three-day mindfulness retreat brought together survivors and family members of victims from shootings in 10 cities — including the Tree of Life Synagogue in Pittsburgh; Marjory Stoneman Douglas High School in Parkland, Florida, and Sandy and Lonnie Phillips — for support and healing in a safe space.
Shelly Tygielski, a mindfulness instructor from South Florida who had supported the families of victims and survivors of the Feb. 14, 2018, shooting in Parkland, and Sharon Salzberg, a meditation teacher, organized the retreat. It wound up being "something special," and "for many, it was the first time they didn't have to explain themselves," Tygielski said.
So special that the organizers and the Phillips knew it had to go viral.
Now, in partnership with the University of California at San Diego and Tygielski, Survivors Empowered is launching a free online training program in which an initial cohort of people affected by gun violence can train to become teachers of mindfulness, which has proven to be a powerful tool for helping survivors reduce stress and heal from their trauma.
The university's Mindfulness-Based Stress Reduction Program (MBSR) will begin in January with two inaugural eight-week classes and 40 students, all gun violence survivors. After they finish the class, students are then eligible to begin training to teach MBSR to others, and ultimately be certified after two years of further learning. The cost of the program, upwards of $30,000 for each participant, is being underwritten by generous sponsors.
Tygielski and the Philipses envision gun violence survivors becoming teachers and forming, around the country, micro-communities of mindfulness for other survivors.
"Survivors are really the ones who are the most effective teachers and healers," Tygielski said. "They can say 'I know what you're going through' and mean it."
For more than a year, Tygielski worked with Survivors Empowered and UCSD's Center for Mindfulness to refine the program, which is based on one created by Dr. Jon Kabat-Zinn in 1979.
Students will meet once a week for 2 ½ hours and for a daylong retreat after the fifth class. Certified, trauma-informed MBSR instructors will teach the classes. Once the initial stage is completed, students begin the process of becoming certified as MBSR teachers.
"It's the combination of having that trauma-informed therapy and trauma-informed mindfulness," said Sandy Phillips. "Shelly said that's where we need to take this. We thought so, too."
"I'm really happy about it and I'm glad UCSD got on board very quickly," she added.
Tygielski, who has also garnered accolades for Pandemic of Love, a mutual aid organization she founded in March to help people affected by the pandemic, met Sandy and Lonnie Phillips months before the retreat through a mutual friend from Parkland.
She was drawn to the Phillips' mission of building a network of ongoing support for gun violence survivors and creating a toolbox for people newly affected by shootings.
"They're fabulous, genuine people," she said of Sandy and Lonnie. "The work they've put in since Jessi was murdered has been a catalyst, and I feel blessed to help them realize their vision and move the ball forward."
For information on each of the two class options for the mindfulness program, visit the following links.
https://www.mindful-way.com/events/mindfulness-based-stress-reduction-for-survivors-empowered-option-one/
https://www.mindful-way.com/events/mindfulness-based-stress-reduction-for-survivors-empowered-option-two/